Up to $2.1M, and Other Amazing Rewards from BC.GAME this World Cup Season
BC.GAME is adding hype to the FIFA World Cup hosted in Qatar this year by hosting Coco's Carnival, where sports fans and bettors can join contests and giveaways to win various prizes. Participating players can get the chance to win a Tesla, up to $2.1M, and other amazing rewards from BC.GAME's Coco Carnival events. 
BC.GAME has officially partnered with the Argentine Football Association, allowing the Coco Carnival events to be held throughout the entirety of the World Cup. Coco's Carnival consists of different exciting events, including the World Cup Wager Contest and Coco's Tesla Giveaway.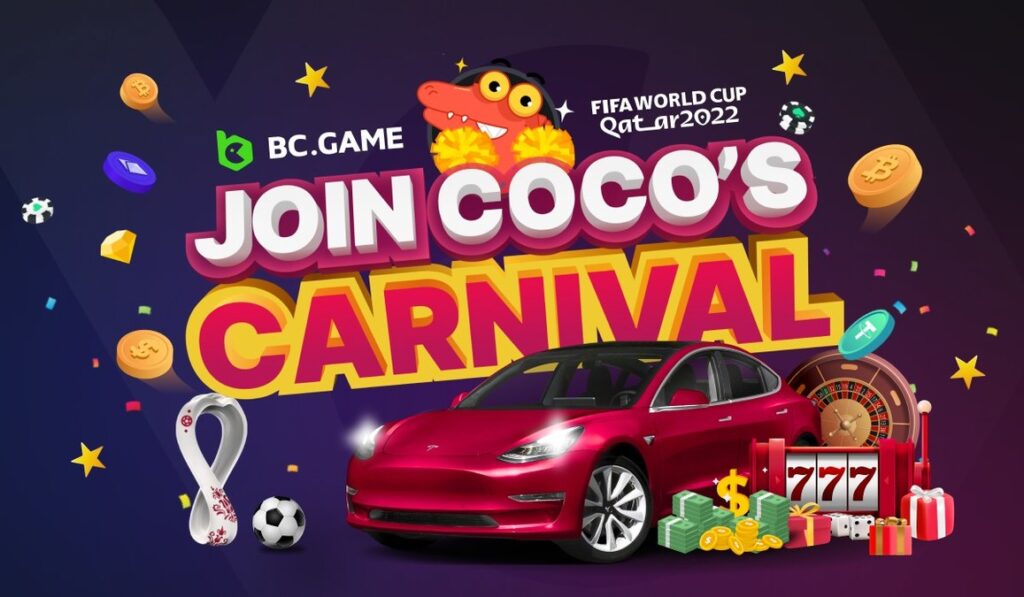 $2,100,000 World Cup Wager Contest
The World Cup Wager Contest, Coco Carnival's one of the three events, is open from November 20, 2022, to December 19, 2022. In the contest, players can earn World Cup Coins (CUP), which BC.GAME specially designed for the World Cup wagering event. 
Players can earn 10 CUP coins for every $1 wagered in the World Cup Wager Contest. Besides making wagers, BC.GAME players can also earn up to 1,000 CUP coins daily by logging in on the event site. In addition, players can also earn World Cup Coins by redeeming CUP sweetcodes found on BC.GAME's forum and social media accounts. We do not allow the use of multiple accounts for the event, and it will result in disqualification. 
Coco Tesla Giveaway
The third Coco Carnival event is Coco's Tesla Giveaway, which is one of the four giveaways included in Coco's Mega Giveaway. In this giveaway, qualified BC.GAME players have a chance to win a brand-new Tesla. Players must reach VIP 70+ and complete the tasks required by the event to join the Tesla giveaway.
Aside from the Tesla Giveaway, players can also participate in the three other giveaways. VIP 30+ players can join the Great Giveaway, where a $30k prize pool is up for grabs. Players who are at least VIP 5+ can take part in the Thanksgiving Giveaway, which offers $10,000 thank-you rewards for winning BC.GAME participants. The Coco Mega Giveaway is also hosting the Grand Giveaway, which gives players of any level a chance to win limited $30k rewards.
Like the Coco Tesla Giveaway, players must meet the specified BC.GAME user criteria and finish the necessary tasks to earn a raffle entry to any of the giveaways. One BC.GAME account can only participate once per giveaway. Participants have until December 10, 2022, to join these giveaway events. We will pick winners using a provably-fair algorithm based on blockchain. 
Players also still have a chance to join the first Coco Carnival event, the World Cup 2022 All-Winner Predictions, which ends on November 26, 2022. You can win shares from the event's $100k prize pool by making accurate winner predictions from the World Cup's knockout rounds. We allow each household to submit only one entry. 
BC.GAME's support team will contact winners from any of these events to provide further details on prize collection. For more information about these Coco Carnival events, players can check out BC.GAME's official Coco Carnival website. 
To visit Coco Carnival and participate in any of the events, visit here: https://worldcup.bc.game/
What is BC.GAME?
BC.GAME is a licensed online crypto casino that gives players access to a wide selection of casino sports betting, live casino tables, and online casino games. The crypto casino platform is operated by BlockDance B.V. and obtained its official gaming license from C.I.L. Curacao Interactive Licensing N.V. BC.GAME has partnered with the Argentine Football Association, giving BC.GAME players the chance to engage with the Argentinian national football team.