Many people trust Lady Luck at the roulette wheel or try to find the best strategy for betting baccarat. This never works out in the long run.
But blackjack can be beaten, although it takes card counting to do it. Blackjack is a unique casino game that's earned its legendary status.
Blackjack is a simple card game, but it's one of the most famous gambling games.
This is because the odds of beating the house are excellent. With basic strategy, you can get the house edge as low as .5%.
There's no guarantee, but blackjack strategy is simple to learn. There's no reason not to use it.
You don't need to be an amazing player. Just follow a few basic rules to play blackjack like a pro.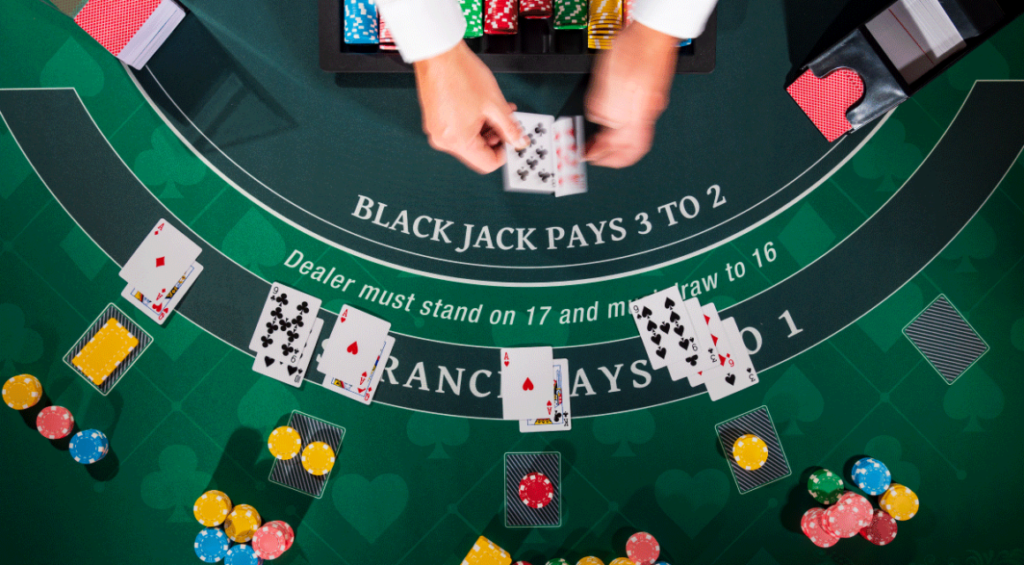 Basic Blackjack Strategy
Blackjack strategy can be as simple as hitting on any blackjack hand below 16. You can squeeze out a little bit more by memorizing a chart.
There are many different situations on the chart. You will be looking at the dealer's upcard and comparing it to the player's hand.
If the face-up card is an Ace, the odds are poor, so the player must be aggressive. With a low upcard, blackjack players will be defensive.
If you have a pair of aces or eights, for example, you will split. Each situation has a place in the chart. You will either stand, hit, double down, or split.
Memorizing a blackjack strategy chart doesn't sound like fun, but gamblers love winning. You can practice with trainers on your phone, so it's not complicated.
Trainers will correct you if you make a mistake. A few days with a trainer will really help your game.
You could just bring the chart with you to the casino, but land-based casinos won't be happy. Online, there's nothing to stop you from looking.
You should really memorize the chart, though. You could look, but you might make an occasional mistake. It's better to master it since we're talking about real money.
Not all Games Have the Same Rules
Some blackjack games favor the player. If you look around, you can find games that maximize your odds.
You won't find a perfect game. But, you can find games that have better than average odds.
Try to find games that have 3:2 natural payouts. Those increase your odds by a massive 1.39%. Also, be on the lookout for "dealer stands on soft 17."
Play Blackjack in Online Casinos
Online casinos usually have better odds than land-based casinos. This is especially true for slots but also applies to the blackjack table.
This is because not all blackjack games have the same rules. Online games are more likely to have rules that favor players.
Many online games have house edges of less than 1%. Microgaming has excellent games.
Online casinos are so competitive that you can easily find games with less than a .4% house advantage with some shopping around.
Online casinos are also great for new players. Nobody will yell at you if you need to look at the chart sometimes.
Blackjack bonuses and VIP Rewards
Most people have heard that you can get rewards for playing casino games. High Rollers get many free perks, including free hotel stays.
Some casinos reward you for time spent in the casino, but most reward spending money. This money can really add up.
The biggest windfall is from deposit bonuses. These bonuses can equal as much as 100% of your deposit.
You won't really be able to cash out the money because the terms and conditions require you to play the money many times. But, with a few good hands, you can use the extra bankroll to take home a nice jackpot.
Counting Cards
It's possible to get a slight edge on the house by using a counting system. The trick is, you're going to get caught.
Ace-5 and hi-lo are easy to learn. Despite what you've seen in movies, card counting doesn't require you to be a genius.
In ace-5, aces are -1, and 5s are +1. in hi-lo, 10 value cards like face cards are -1, while six and below are +1. On a good count, you will meet more than your original bet.
That sounds difficult, but it only takes a few minutes to learn. Blackjack players won't ever beat the experience of casino bosses.
The tricky part is not getting caught. Casinos can easily spot a card counter, and that's especially true online. If you know the count, you better believe the casino does too.
You definitely won't be using hand signals in online blackjack. But, when you bet the minimum bet on low counts and a higher bet on high counts, you'll get caught.
Still, knowing the count is advantageous. If the count starts getting really bad, you can always walk away from the table. If the count is good, maybe you'll play a little longer.
A card counting strategy that avoids getting caught won't make much money, but you can at least even the odds a little.
Single decks are the easiest to count. Any deck can be counted, but the odds shift much faster with single decks.
The number of decks doesn't matter unless you're counting cards. You have an equal chance to get a strong hand with 8 decks or 1 deck. Single decks just have a higher variance when card counting.
Final Thoughts
Blackjack is a simple game, and the solutions have all been worked out. If you take the time to learn some charts, you can be a pro in no time.
Blackjack has the best odds of any casino game. This makes it appropriate for experienced gamblers who dislike poker or sports betting.
Sportsbooks and poker get the best odds if you know the games well. Sharks can tear up a table of fish.
But swimming with sharks isn't relaxing. Blackjack is a gentle game.
Blackjack also benefits from the live casino boom. The chances of winning aren't any better with a live dealer, but it's more fun.